I love to cook and for me, there is nothing more rewarding than preparing food for others to enjoy.  My Christmas pudding recipe has been enjoyed for many a year by friends and family and in 2015 I had the opportunity to bring LillyPuds to market from our home in East Anglia. 
My foodie dream had been realised… to my delight, my recipe was a resounding success and it's even been possible to convert those with a dislike for our great British pud!  I also wanted the LillyPuds styling to symbolise the festive season – a time for the giving and receiving of presents.  So, a LillyPud is wrapped to make an ideal foodie gift.
Our pudding journey since October 2015 has been amazing and my premium award-winning Christmas Puddings are now being enjoyed by LillyPudlians year on year.  I must offer my thanks to my loyal customers for their interest and support –  thank you.  If you are new to LillyPuds, I hope you love my puddings and join my pudding club! And please, let me know how it was for you!   Merry Christmas!
Alison Lilly – Founder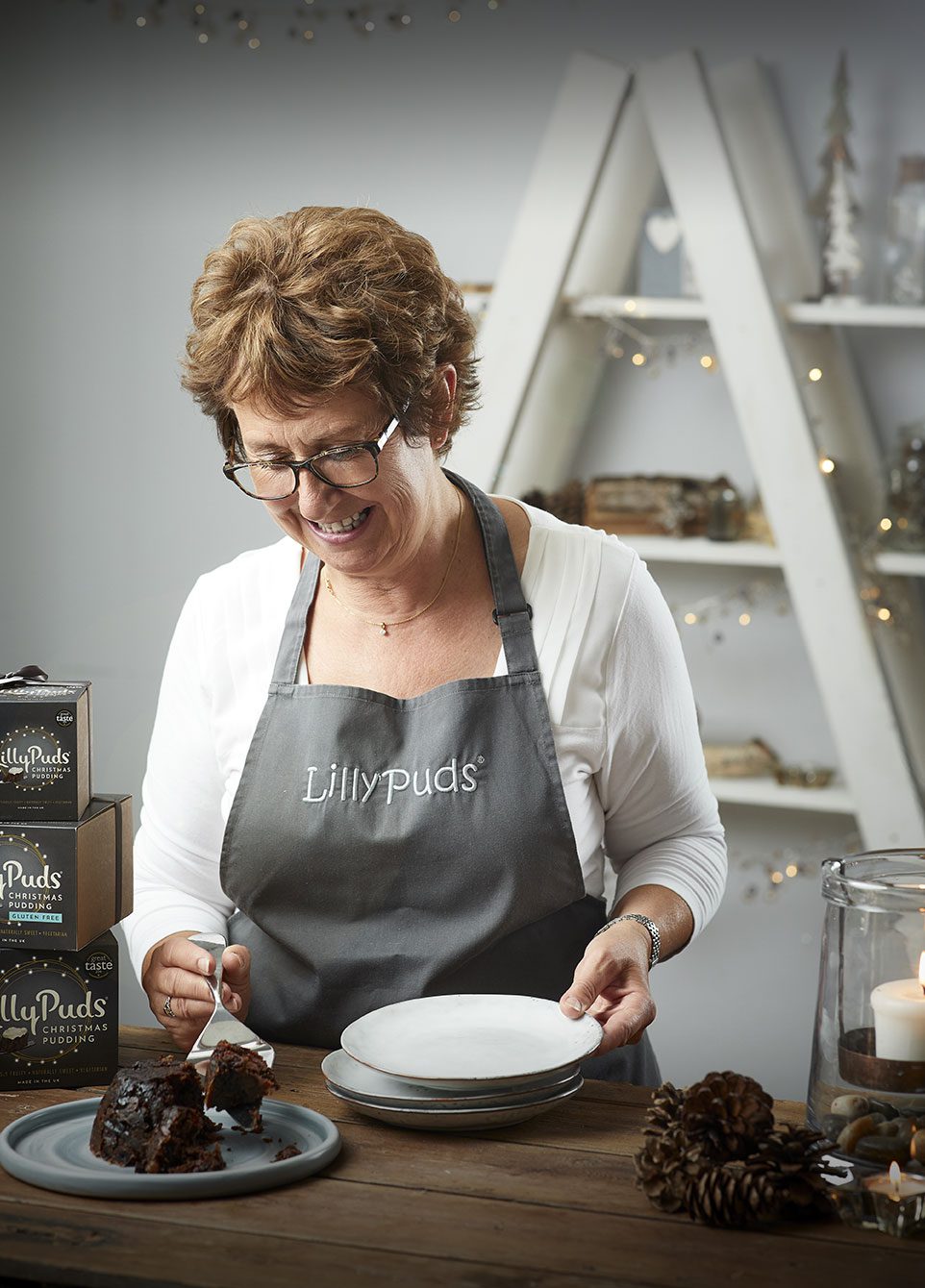 At LillyPuds we work hard to ensure our products are as free from unnatural ingredients wherever possible.  There is no need to add unnatural products when perfectly natural ingredients are available.  Instead of oil and margarine, we use butter in LillyPuds Sticky Toffee Pudding and sauces and plentiful amounts of fruit in our Christmas puddings. 
Our Traditional and Gluten Free puddings are made with a locally sourced gluten free ale, Chockwork Orange from the Brentwood Brewing Company, a beer which compliments the pudding mix perfectly.
So what makes a LillyPuds Christmas Pudding so scrumptiously light and fruity? At LillyPuds we add a lot less added sugar compared to other Christmas Puddings, add more fruit and steam the puddings for less time to ensure the puddings are not heavy and treacly. With no mixed peel, over 50% fruit and less added sugar, a LillyPuds naturally sweet Christmas pudding is a festive delight. 
 So, say goodbye to a dark, heavy Christmas pudding and say hello to a scrumptiously light and fruity LillyPud! 

Over 50% Fruit
With over 50% fruit, and no mixed peel, a LillyPud Christmas pudding is a festive delight.

Naturally Sweet
LillyPuds are scrumptiously light and naturally sweet with less added sugar – just 5% as an ingredient and that's unrefined muscovado sugar.

No Mixed Peel
Why add mixed peel to a Christmas pudding?  After all, we all eat the pith of an orange!  Instead, at LillyPuds we add the juice and zest of citrus fruit.

Suitable For Vegetarians
LillyPuds puddings and sauces are all suitable for vegetarians.

No Dairy Ingredients
LillyPuds Christmas puddings and Plum Pudding do not contain milk ingredients.

Perfect For Gifting
Christmas is the time for the giving and receiving of gifts – the styling of a LillyPud makes our puddings a perfect foodie present.