What would you like to say this year?
"Thank you? Miss You?"….,"Love You?"
Complete service with a personalised message and direct delivery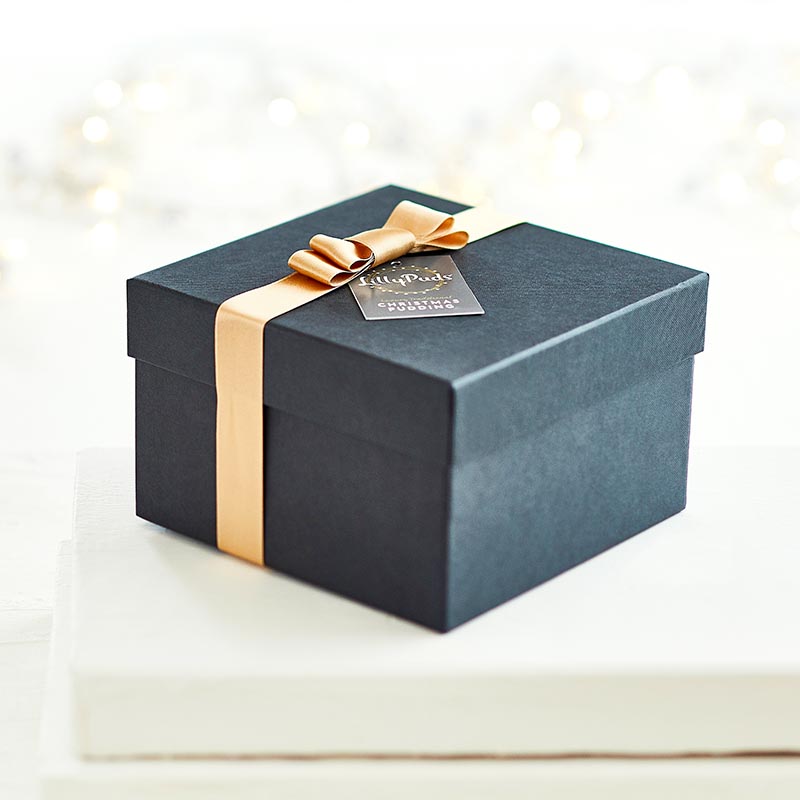 Luxury Christmas Pudding laced with Brandy
LillyPuds Traditional Christmas pudding recipe laced with extra brandy and presented in a china basin beautifully packaged in a luxury box finished with a ribbon and gift tag.
After a strange year, say thank you, miss you, love you to the special people in your life with an extra-special gift from LillyPuds.
Our brandy-laced, luxury Christmas pudding nestles in a reusable ceramic bowl and is hand wrapped with a muslin cloth and presented in a stylish box, complete with a beautiful ribbon and gift tag which we willingly complete on your behalf.
Whether your looking for a gift to your favourite foodie, hostess with the mostess or special neighbour, our posh pud is guaranteed to hit the spot and fill them with Christmas joy.
Alternatively select a hamper from our main selection with the option to choose between products of the same size…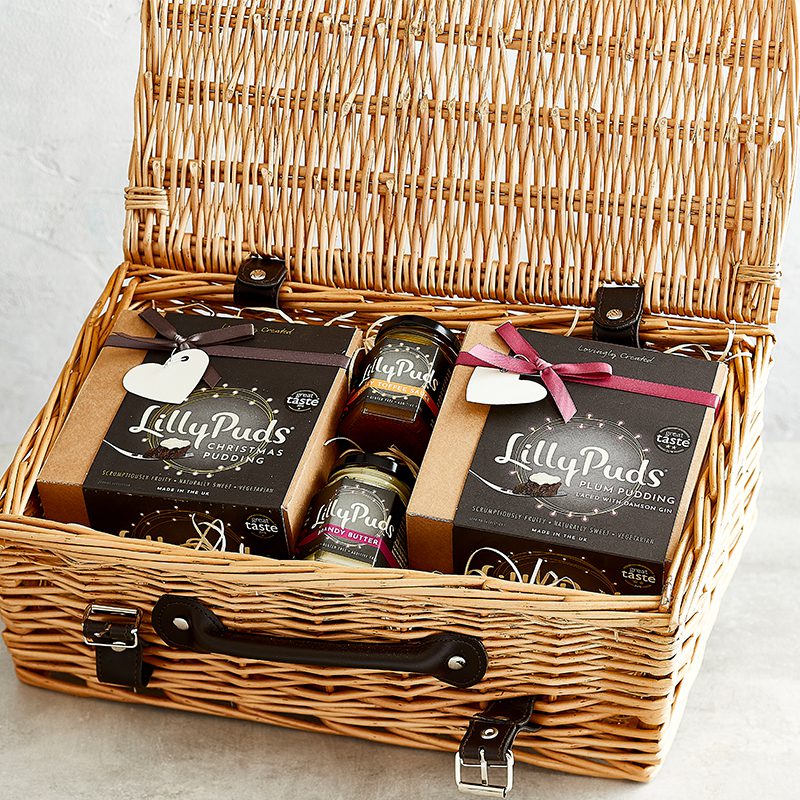 LillyPuds Christmas Selection
A delightful mix of LillyPuds 2* Great Taste Plum Pudding with Damson Gin and LillyPuds 1* Great Taste Premium Traditional Christmas Pudding complete with Brandy Butter and Sticky Toffee Sauce.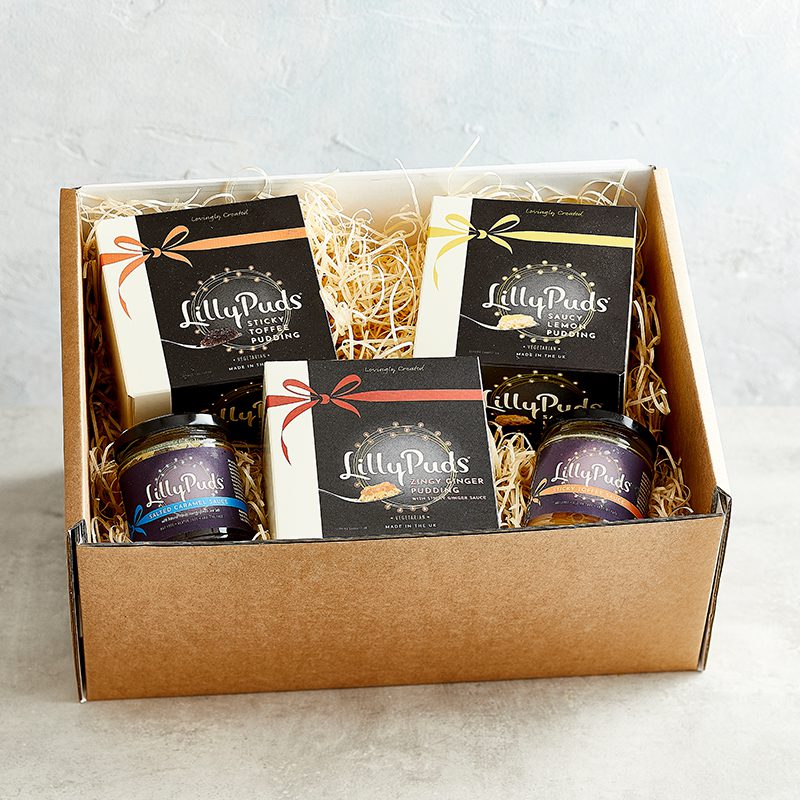 LillyPuds Saucy Selection
A trio of saucy sponges plus salted caramel and sticky toffee sauce – the perfect selection for pudding lovers at any time of the year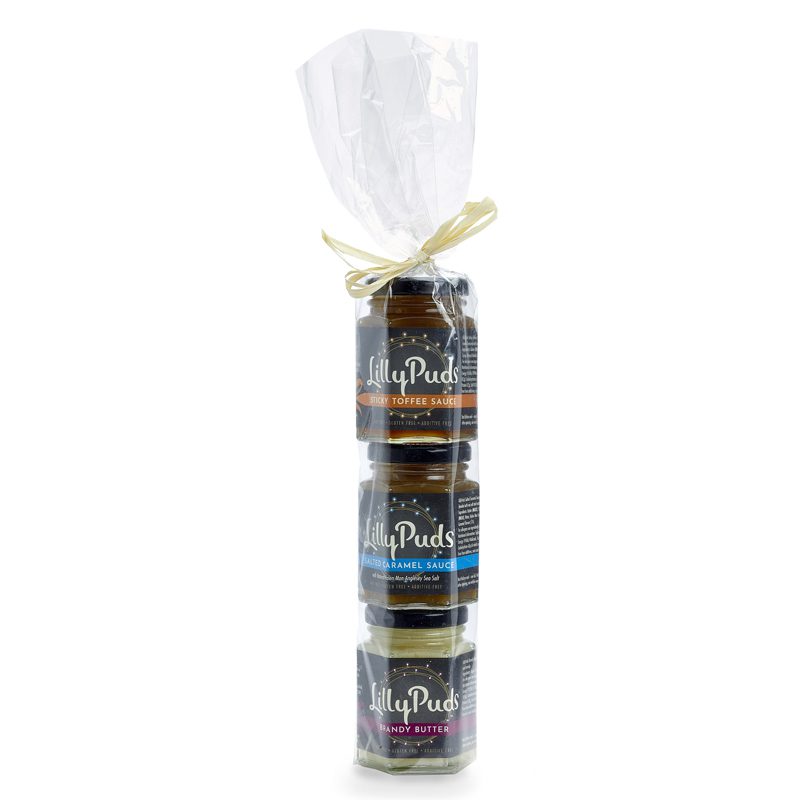 LillyPuds Trio of Sauces
A delightful set of LillyPuds sauces, Salted Caramel, Sticky Toffee and Brandy Butter – gift wrapped for that special treat. All sauces are nut, gluten and additive free
Our Delivery Options
Your gifts can be sent direct – just let us know which week you would prefer the gifts to be sent. To avoid disappointment, we ask you to avoid the last week before Christmas day.
Personalised Message
If you would like to include a personalised message with each gift or perhaps your own Christmas Card, we are happy to add to each delivery at no extra cost.
All Wrapped Up!
Our aim is to provide a professional, easy and reliable service to ensure your gift is delivered in perfect condition and on time.